The Buy Pile: Naomi, Immortal Hulk & More Just Miss the Cut
For the first time in ages, nothing made the ride home as the Gobots reinforced their second class status and an X-Man came back to life in a dumb way.
You Are Reading :The Buy Pile Naomi Immortal Hulk & More Just Miss the Cut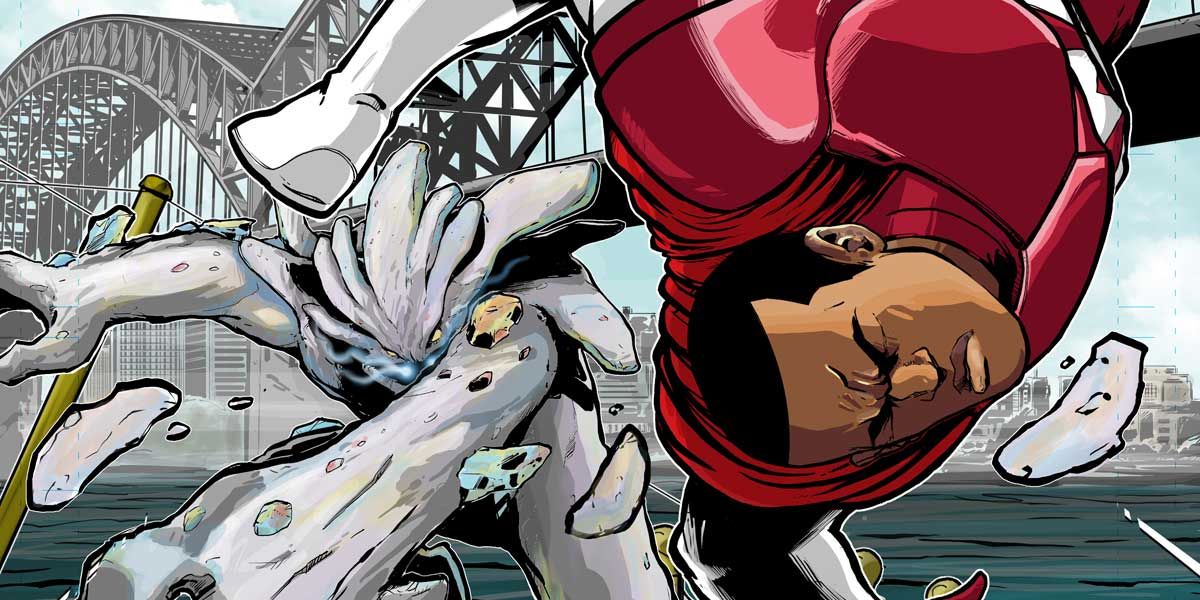 WHAT IS THE BUY PILE?
Every week Hannibal Tabu (winner of the 2012 Top Cow Talent Hunt/2018-2019 City of Los Angeles Department of Cultural Affairs Cultural Trailblazer/blogger/novelist/poet/jackass on Twitter/head honcho of Komplicated) takes on an between seven to thirteen reviews (or so) to share his opinions with you. Thursday afternoons you'll be able to get those thoughts (and they're just the opinions of one guy, so calm down) about all of that … which goes something like this …
THE BUY PILE FOR JANUARY 23, 2019
NothingDespite a lot of fun things happening, the actual periodicals this week didn't stand up to scrutiny. That's pretty rare, honestly, but here we are …
Quincredible #3 had some really good characterization and analysis of the ethics of costumed vigilantism. In the end, it didn't come together as a story even though the players were so compelling. RATING: HONORABLE MENTION.
Naomi #1 would make a fantastic webcomic, with its deliberate pacing, gorgeous artwork and dancing around the fringes of the DC universe. As a single issue, it doesn't have enough meat on its bones to justify the price, drifting around plot wise and not connecting until a mysterious brute shows up. There's room for this to be a thing, but there's not enough "there" there. RATING: HONORABLE MENTION.
Friendly Neighborhood Spider-Man #2 has some very charming character work for its lead character, a rock solid cameo appearance and some super compelling action scenes. The plot's just shy of making it work, though, not brushing past the core issues and dropping a weird surprise at the end. Picking up steam, but not really ready yet. RATING: HONORABLE MENTION.
Immortal Hulk #12 is a little disappointing, drifting from philosophical point to religious idea without much to anchor it. There are lines worth noting, but it fall short of the glory of previous issues. RATING: MEH.
Go-Bots #3 is a mess of half considered cultural references, long lapses in interesting plot points and lackluster characterization. RATING: NO. JUST … NO.
Uncanny X-Men Annual #1 is uniformly terrible in conception. Sure, the craft and production values are super high, but every idea in this sham of a "story" is retrograde and tedious. For all the licensing related reasons this happened … not like this. RATING: NO. JUST … NO.
WHAT'S THE PROGNOSIS?
It was rough out there.
THE BUSINESS
Well. It was quite a week, with the launch of a free weekly webcomic from the Operative Network as they start their new social media campaign and the announcement that recaps of this column will be heard on the Nerd-O-Rama podcast on iHeartRadio starting next Tuesday.
The writer of this column isn't just a jerk who spews his opinions — he writes stuff too. A lot. Like what? You can get Scoundrel (historical fiction set in 1981 east Los Angeles), Irrational Numbers: Addition (a supernatural historical fiction saga with vampires), Project Wildfire: Enter Project Torrent (a collected superhero web comic), The Crown: Ascension and Faraway, five bucks a piece, or spend a few more dollars and get New Money #1 from Canon Comics, the rambunctious tale of four multimillionaires running wild in Los Angeles, a story in Watson and Holmes Volume 2 co-plotted by 2 Guns creator Steven Grant, two books from Stranger Comics — Waso: Will To Power and the sequel Waso: Gathering Wind (the tale of a young man who had leadership thrust upon him after a tragedy), or Fathom Sourcebook #1, Soulfire Sourcebook #1, Executive Assistant Iris Sourcebook #1 and Aspen Universe Sourcebook, the official guides to those Aspen Comics franchises. Love these reviews? It'd be great if you picked up a copy. Hate these reviews? Find out what this guy thinks is so freakin' great. There's free sample chapters too, and all proceeds to towards the care and maintenance of his kids … oh, and to buy comic books, of course. There's also a bunch of great stuff — fantasy, superhero stuff, magical realism and more — available from this writer on Amazon. What are you waiting for? Go buy a freakin' book already!
Got a comic you think should be reviewed in The Buy Pile? If we get a PDF of a fairly normal length comic (i.e. "less than 64 pages") by no later than 24 hours before the actual issue arrives in stores (and sorry, we can only review comics people can go to stores and buy), we guarantee to try and review the work, if remembered. Physical comics? Geddouttahere. Too much drama to store with diminishing resources. If you send it in more than two days before comics come out, the possibility of it being forgotten increases exponentially. Oh, you should use the contact form as the CBR email address hasn't been regularly checked since George W. Bush was in office. Sorry!
Hannibal Tabu is a writer, journalist, DJ, poet, designer and jackass living in south Los Angeles with his wife and two daughters. He's a winner of the 2012 Top Cow Talent Hunt, writer of WASO: WILL TO POWER and WASO: GATHERING WIND for Stranger Comics, ARTIFACTS #35 for Image Comics, FATHOM SOURCEBOOK, SOULFIRE SOURCEBOOK, EXECUTIVE ASSISTANT IRIS SOURCEBOOK and ASPEN UNIVERSE SOURCEBOOK for Aspen Comics, and co-writer (alongside 2 GUNS writer Steven Grant) of an issue of WATSON AND HOLMES for New Paradigm Studios in WATSON AND HOLMES VOLUME 2. In fiction, he has been published in the Steamfunk! anthology and has two self-published novels, THE CROWN: ASCENSION and FARAWAY, available on all major online booksellers. His poetry has been published in (SIC) VICE VERSE, A DRUMMING BETWEEN US, DRUMVOICES REVUE and VOICES FROM LEIMERT PARK.
Link Source : https://www.cbr.com/the-buy-pile-hulk-naomi-quincredible/