"Arrow" Recap: A Main Character Exits the Show
Tonight on "Arrow," Oliver and Diggle track down Damien Darhk, while Laurel, Thea, and Andy get caught up in a plot involving Malcolm Merlyn.
You Are Reading :Arrow Recap A Main Character Exits the Show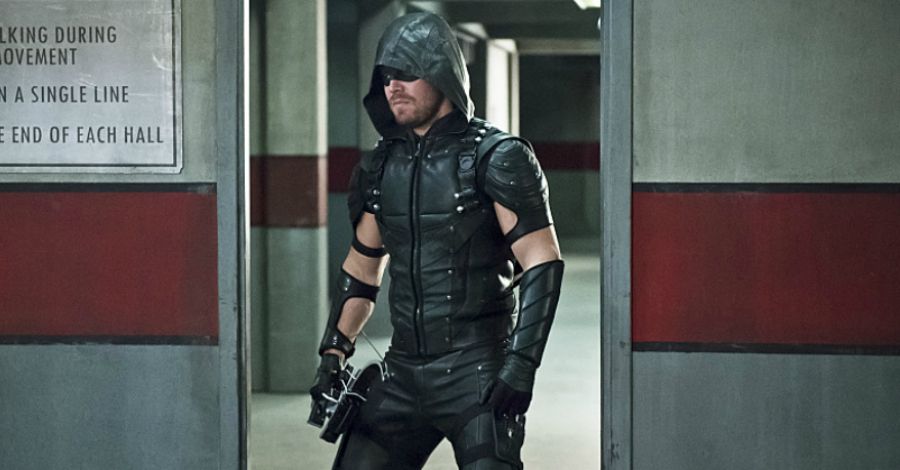 Tonight "Arrow" took a sharp turn and killed off a beloved member of Team Arrow. While many fans knew a character death was coming, it still didn't soften the blow when the person in those ominous grave scenes was finally revealed. The death came at the hand of Damien Darhk, whose villainous team-up with Malcolm Merlyn put Team Arrow right in Darhk's cross hairs. The flashbacks this week also provided an emotional look at Oliver's journey with the fallen character, as she was part of his motivation for getting off the island. Careful for spoilers if you have not seen tonight's episode, "11:59."
The pulse of the show this week was character choices and character trust. Did Diggle trust his brother Andy? Did Oliver trust Diggle when he said his brother was safe? Did Thea trust Merlyn to not kill her when he got the jump on her? Could Laurel trust her choice in taking the job at the district attorney's office? Could anyone trust that Darhk wouldn't kill everyone who stood in his way once he got his power back? Throughout this episode each character's trust was tested, and unfortunately Diggle's trust — or more appropriately misplaced trust — in his brother cost Laurel her life.
Firstly, Darhk needed to get out of prison and Malcolm Merlyn was just the ally to help. Malcolm approached Andy Diggle to help him bust Darhk out of prison during a prisoner transfer. When Andy came clean about the situation, he, Oliver and Diggle tried to stop the transfer from taking place. Unfortunately the transfer was a diversion to leave Thea and Laurel alone guarding Darhk's idol. Merlyn and the league came for the idol and almost took Laurel and Thea's life in the process. When Oliver accused Andy of being Merlyn's inside man to create the diversion, Andy denied it. Darhk was finally reunited with his idol, but because it was missing a gem, it coulnd't give him the power he needed. So Merlyn needed to put a second plan into motion.
Throughout the episode Diggle kept insisting that his brother wasn't working for Darhk and that Andy could be trusted. Oliver continued to be weary of Andy, especially when he found Andy rummaging through Diggle's house looking for the gem. Just when Team Arrow thought they had Darhk beat by hiding it, Darhk and Murmur staged a prison break. Team Arrow was able to get in to stop Darhk, but not before Andy revealed himself as the mole and gave Darhk the gem. With Darhk holding both the idol and the gem, he was able to regain his powers, and Team Arrow was left with no more cards to play.
Darhk then called the Green Arrow out as Oliver Queen and the Black Canary out as Laurel Lance. This was the first time Darhk admitted that he knew who they were, which was not good, considering Laurel was the one who helped put Darhk in prison. Oliver shot an arrow at Darhk, which he caught, and without hesitation, he thrust it into Laurel's body. This was a move no one saw coming, especially Oliver, who was powerless to help Laurel until Darhk released his hold on him. Laurel began to bleed out, but Oliver rushed her to the hospital and put her into surgery.
When Oliver and the team went to visit Laurel in the hospital, her doctor said that she was going to be just fine. Felicity, Thea, and Diggle let Oliver spend some alone time with her, where Laurel revealed that she had been carrying Oliver's picture of her around in her wallet. This picture was the same one Oliver used to look at on the island. For so many years Laurel was Oliver's motivation, his symbol of home. In the hospital room Laurel confessed that while Felicity was now the love of Oliver's life, he had always been the love of hers. Laurel then pulled Oliver aside and asked him to take care of something for her. Her request was said but not heard, which makes me wonder what she told him. Laurel's vitals then went haywire, and her time of death was called at 11:59. Her father Captain Lance was too late, and when he arrived he knew that she was gone.
Seeing Laurel die and knowing just how much she has grown as a character on this show was so painful to watch. Laurel has overcome so much. She overcame the initial death of Oliver and Sara on the Queen's Gambit, Oliver's return, Sara's return, Tommy's death, Sara's death, alcohol abuse, substance abuse, becoming the Black Canary, even Sara's Lazarus Pit resurrection — Laurel has overcome every obstacle the show has thrown at her, but she couldn't overcome this. It was absolutely gutting to see that she was killed by an arrow, and that her team was powerless to stop it from happening. Katie Cassidy will be back for next week's episode of "Arrow" in numerous flashbacks, and she will also be guest starring on "The Flash" in a few weeks as the Earth-2 version of Laurel Lance, but that still doesn't negate the pain of losing a main character like Laurel. Laurel was a fierce Black Canary, a loving friend to Oliver, a strong lawyer in Star City, and an amazing supporter to Captain Lance. The aftermath of her death is going to take a toll on the whole team, and now no matter what happens with Darhk and Merlyn, it's personal, and I will be surprised if this season doesn't conclude with both of them dying at the hands of Team Arrow or Captain Lance himself.
On the next episode of "Arrow" the entire team finds ways to process their guilt. In the trailer below, Diggle takes the fate of the new mayor into his own hands, and Oliver remembers multiple flashbacks of Laurel as he kneels at her grave site. Check out Katie Cassidy, Marc Guggenheim, Wendy Mericle, and Paul Blackthorne's full response to tonight's shocking death here. You can also vote in our episode pole here.
"Arrow" returns to The CW on Wednesday, April 27 at 8 p.m.
Link Source : https://www.cbr.com/arrow-recap-a-main-character-exits-the-show/