5 Uncanny Reveals From The "X-Men: Apocalypse" Trailer
The first trailer from Bryan Singer's mutant movie is packed with high-flying, fast-growing, head-shaving and fast-running revelations.
You Are Reading :5 Uncanny Reveals From The XMen Apocalypse Trailer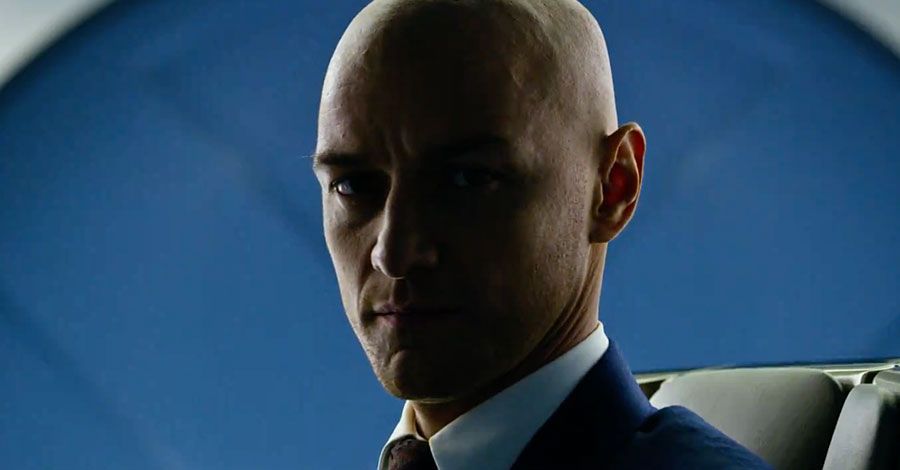 The "X-Men: Apocalypse" trailer is here. Ahead of its big screen inclusion in front of "Star Wars: The Force Awakens," Fox has unleashed the first official look at Bryan Singer's new mutant movie.
The clip is packed with big reveals and long-awaited footage. With its massive cast and dual timeline narrative, 2014's "X-Men: Days of Future Past" set the bar pretty high when it comes to epic-ness in X-Men movies. But judging by the footage of Oscar Isaac's imposing villain and the property damage glimpsed in this trailer, the next X-Movie could actually be the biggest one yet. Here are the five major reveals that blew us away.
Giant Apocalypse
Let's be honest: a lot about Apocalypse shouldn't work in film. He's boastful, blue and has ill-defined growth powers. None of those things should work in Singer's grounded X-franchise. But, here he is in all his armored glory, and it works. Just looking at this trailer, the film isn't shying away from any part of Apocalypse; this is the comic book version of En Sabah Nur brought to life, and we see that in action during a perspective-altering shot of him using his molecular manipulation powers against Professor X. Apocalypse is so talky that "makes grand speeches" really seems like his primary power, but this trailer reminds us that no, the guy can also throw down with the best of them.
Hello Horsemen
Every villain needs henchmen, and Apocalypse only accepts the best. The villain always attracts four disciples (or horsemen), as the C.I.A.'s Moira MacTaggert (Rose Byrne) tells the '80s-coifed Professor X (James McAvoy) and Havok (Lucas Till). And that Biblical tradition goes way back — so far back that MacTaggert posits that maybe "the Bible got it from him." We see the foursome in quick flashes, too: Storm, Magneto, Psylocke and Archangel. These are all A-list comic characters, and Magneto's been the co-lead of this trilogy of X-Films, so seeing this powerful foursome of iconic characters go up against the X-Men? Good luck, good guys, you're gonna need it.
Archangel Takes Flight
Of those four horsemen, one comes directly from the comics — and he's a character fans have been waiting years to see. That character is Archangel, a character so inextricably tied to the villain that his inclusion here is a no-brainer. In the comics, Apocalypse turned the original X-Man Angel into Death by giving him metallic, razor-sharp wings and blue skin. While Ben Hardy's angelic adversary isn't Smurf colored in this trailer, he does have those metal wings, and they look beautifully deadly. And, proving that "Apocalypse" isn't shying away from its comic book roots, we even see Archangel shoot out his poison-tipped flechettes. This is the Horseman of Death X-Men fans have been waiting to see.
Run, Quicksilver, Run!
After a less-than-enthusiastic reaction to his costume, Quicksilver (Evan Peters) completely flew past everyone's first impression and finished as a fan favorite thanks to a show-stopping scene in "X-Men: Days of Future Past." With just a few minutes of screentime, Peters infused a character initially dismissed as goofy with a ton of surly charm. It's great to see him back in action in an X-Men movie and this trailer gives us a quick look at his scene — hopefully one of his many scenes. And for everyone out there looking for cosplay options for 2016, note that Quicksilver is now wearing a (very appropriate) Rush t-shirt.
Bald Xavier
Who knew that James McAvoy could look that much like Patrick Stewart? Maybe it's because he's been mop-topped for the past two movies, but the resemblance between McAvoy's young Xavier and the elder one played by Stewart has never been spot on. In the last shot of this trailer, which shows McAvoy's bald Xavier decked out in a blue suit similar to the one worn by Stewart's version, he really looks like a younger version of the mutant mentor we know and love. This is the Xavier we've been waiting for two whole movies to see, and it looks like the character is coming into his own just in time to stand up against the threat of Apocalypse.
"X-Men: Apocalypse" opens on May 27, 2016.
Brett White is a comedy writer and a proud Southern man — you know, proud of all the good stuff (Dolly Parton, Blanche Devereaux and Goo Goo Clusters). A lifelong obsession with comics led him to Wizard Magazine in 2008 and then to writing gigs for The Robot's Voice, Marvel.com, and MTV's Splash Page where he served as managing editor. Brett served as a writer and Assistant Editor for CBR from 2011 to 2017, where he wrote a lot about the X-Men, Foggy Nelson, and plenty of gay stuff. Brett is currently a reporter/producer for Decider, where he tries to find reasons to write about Bob Newhart (and also the X-Men). His passion for sitcoms is on full display in the weekly podcast Must Have Seen TV.
Link Source : https://www.cbr.com/5-uncanny-reveals-from-the-x-men-apocalypse-trailer/